En/Microclient JR DX
提供: VoIP-Info.jp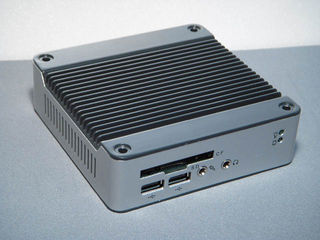 Specifications
CPU : Xcore86 DX 1GHz(Vortex A9120 933MHz) -> http://www.vortex86dx.com/
Memory : 256MB (512MB version will available at 2009Q2)
VGA : XGI Volari Z9s http://www.xgitech.com/products/products_2.asp?P=23
ROM : AMI BIOS
Storage: Compact Flash X 1,microSD X 1
HDD : 2.5" PATA X1 can be installed.
LAN : 100Mbps Fast Ethernet(PXE boot,WOL) RDC R6040
Dimensions: 115x115x35mm 505g(without HDD)
Price: Start from $140(Single unit.Without S&H. Available from NORHTEC)

Description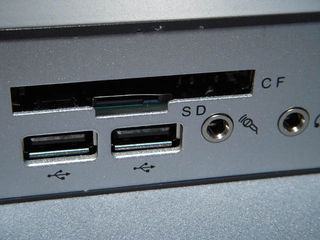 microSD on front side. Bottom of CF slot.
Marked as "SD" but "microSD".



Rear view. This unit without RS232C



Inside Top view.

Storage Configuration
Single microSD,CF slots on Front side.You can use micro SD and CF same time.
2.5" HDD can be installed inside.(But mini PCI model,You can't install HDD.)

microSD : IDE Primary Master.

CF/2.5HDD : IDE Secondary Master.

There is a "Slide Switch" located inside of CF Slot.
Change this switch to "Slave",CF Slot will work as IDE Secondary Slave.
This switch can be access from CF Slot.
To Change HDD priority, You must use "Jumper" setting on HDD itself.
To select boot device, Press [F11] at power on screen.
or use BIOS setup menu to change boot priority.